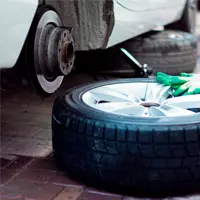 Replacement of wheels
Having a flat tyre on the way or your tyre is down at the worst possible moment?
Use the service "Replacement, repair, pumping of wheels on site".
Our technicians will quickly fix the problem on the spot - near your home, office or right on the road. At any time of the day, in any weather. We work without days off and holidays.
Replacement of a wheel (removal and installation)
Repair of tyres of any type, including low-profile tyres
Repair of a tyre blowout with a tyre plug
Repair of tubeless tyres
Pressure check
Repressurizing of tyres
All work is carried out using professional equipment and high-quality repair materials.
The cost of providing services outside the city consists of the cost of providing services and the cost of serviceman travel outside the city (on the highway) - 250 KZT per 1 km.